This shop has been compensated by Collective Bias, Inc. and its advertiser. All opinions are mine alone. #OwnWhatYouEat #CollectiveBias
I'm setting a huge goal for myself in 2018.  I will be doing my first half marathon!  Ryan is a huge marathon runner and competes in several each year and I am always envious of his determination to stick to a training plan.  He will actually be doing the San Diego Marathon this year.  I decided to sign up for a 1/2 marathon in Bend, Oregon in May.  This will be no easy task to take on.  I work full time, so it will be difficult to find time to train but I am confident I can make it work.  Ryan is super supportive, so he'll give me the time I need to train.  A huge part in training for anything physically strenuous is making sure to fuel up properly.  I make sure to start every morning with a bowl of Special K® cereal.  Sometimes I am so busy with the girls that I'll forget to eat, so I've tried to make it a habit to have a bowl each morning.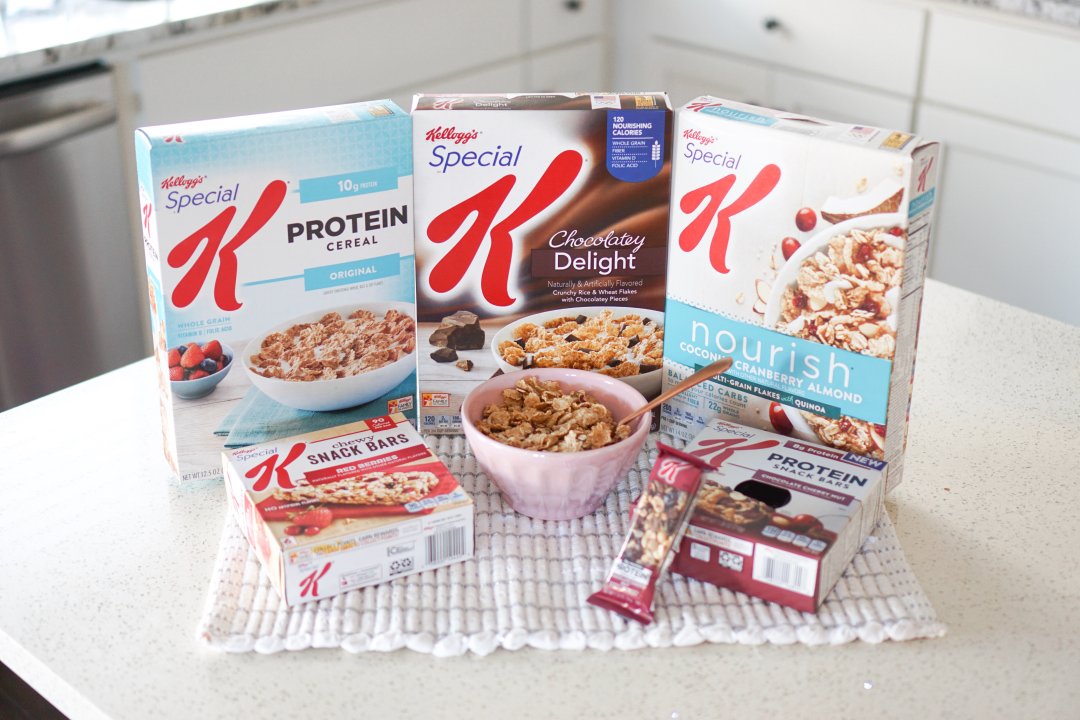 Hover over the image to stock up on Special K® cereal at Target!

Own What you Eat with Special K®
Special K® products have been a part of my families meal plan for as long as I can remember.  My favorite cereal is Special K® Red Berries.  They have come out with a ton of great products lately including some amazing cereals like Special K® Chocolate Delight and Special K® Nourish Coconut Cranberry Almond cereal.  I love this particular one on top of greek yogurt!  I also love their protein bars and snack bars.  These are all great to incorporate into a meal plan to help fuel your half marathon training plan or whatever your goals may be.  I also love having Special K® snack items to throw in my diaper bag when I am on the go.  When I am home with the girls I swear I can never get myself to eat breakfast first thing.  I love Special K® handhelds when I am in a hurry.  Their sausage, egg, and cheese sandwich is so good!  Their products are packed with protein to fuel your busy lifestyle.  Did you know that women spend an average of 61 minutes each day second guessing their food choices?  I love that with Special K® , I don't have to second guess anything.
I always make sure to have a Special K® bar in my diaper bag because I'm usually too busy trying to get out the door with both girls to eat 

Sometimes I forget to eat breakfast (I know, SO bad) but a quick bowl of Special K® cereal with lots of amazing ingredients really does the trick and it takes 0 effort to put together 
Half Marathon Training
Ryan gave me a few tips on marathon training and I want to pass them on to you incase you are also planning on training for a half marathon.  His main tip is to just start running.  But seriously, he says to have a plan and think of them as guidelines and don't get too worked up if you miss scheduled runs.  Have a first goal for your run, but always have a back up goal incase you are just not feeling it on race day.  Try to train at the same time that your race will be taking place.  Don't just practice running, practice your routine.  Don't use new gear on race day.  Get to the start line early.  Make sure to mix in cross training and make sure not to skip your rest days.  He also suggests having a protein fueled meal plan with lots of complex carbs mixed in.

I really love Special K® protein bars to eat before or after a run.  They have a great mix of protein and carbs to help fuel up. 
Training Schedule
Here is a simple training plan to follow for a half marathon.

I make sure to get my Special K® Cereal and bars at Target
From 1/7/18 – 1/13/18 there is special pricing at Target.  Select Special K® Cereals and all Special K® Bars and Bites, with the exception of Special K® meal bars are $2.50.  From 1/1/18 – 6/1/18 you can get a free Swell water bottle with an empowerment message on it via Kellogg Family Rewards when you purchase any combination of three (3) participating Special K® products between 1/1/18 and 6/1/18. Receipts must be submitted by 7/1/18.  Click here to learn more about this offer!
Thank you as always for reading and please let me know if you have any training tips!  I'd love to hear them!
XO-Chelsee